We Did It!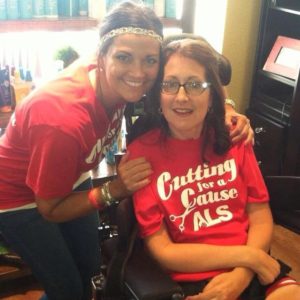 We originally set out to raise $3,000 for Miracles for Melissa. I'm proud to say that not only did we meet that goal, we smashed it raising over $9500! We are grateful to everyone that came out to donate and get services from Salon 53 that went to this amazing cause.
We also want to thank everyone that donated prizes for the raffle:
18 Holes of Golf w/Cart & Lunch – CIC Club
$25.00 Gift Card – Casa Las Palmas
$100.00 Gift Card – Ciao Bella
$100.00 Gift Card – Nagoya
Wine Basket – Mon Ami Winery
$100.00 Gift Card – Jimmy John's Gourmet Sandwiches
$25.00 Gift Card – Cielo Grande
$25.00 Gift Card – 1812 Restaurant
$15.00 Gift Card – Coffee Express
$100.00 Gift Card – The Orchard Restaurant
$100.00 Gift Card – Friendship Food Store
4 Round Trip Tickets – Jet Express/Joann Stuart
$25.00 Gift Card – Bergman Orchards
Gift Basket from Rudders Café – Mary Ann Gecsi
Jockey Clothing – Nikki Haghiri
$15.00 Gift Card – JT's Catawba Café
Pandora Signature Bracelet w/3 charms – Kelly Murphy
Tibolli Product Gift Set – Robert with Salon Ware Exclusives
$50.00 Gift Card – Minuteman Press
4 tickets to Monsoon Lagoon Water Park – Monsoon Lagoon
$50.00 Gift Card – Newport Dry Goods
Cooler, Chair & Umbrella – McDonald's
Bottle of Wine & Chiller – Spader Freight Services
Cubic Zirconium Ring – Laura Baumann
Fish Platter – Jan Pugh Packer Creek Pottery
Basket of Cheese & Goodies – Cheesehaven
$50.00 Gift Card to Rosie's & 1812 – Adrienne Hines
3-hour cruise on Lake Erie w/Wine & Cheese – Ruth & Wayne Fredick
Rodan & Fields Skin Care Basket – Brigid McKale
Lottery Money Tree – Wendy Key Realty
Manicure & Pedicure – Jenna/Salon 53
1-hour Body Massage – Cassie/Salon 53
Brow Wax & Make-up Application – Sandy/Salon 53
GRAND RAFFLE:1 Free Haircut a Month for a Year! – Brenda Belcher
Once we were done we did the ice bucket challenge and man was it cold!  Enjoy some pictures from the event and thank you again from all of us.